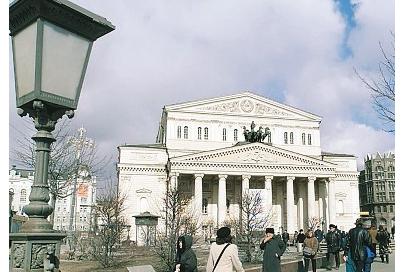 Moscow city officials are employing the brutal methods of Soviet predecessors to develop a rash of buildings that are destroying the Russian capital's historic heritage.
Landmarks under threat include the Bolshoi Theatre, the Mayakovskaya metro station and monuments of the avant-garde, according to a new a survey by the Moscow Architecture Preservation Society (MAPS). MAPS, set up in 2004 after the demolition of two major Moscow landmarks, the Moskva Hotel and Voyentorg department store, said thanks to public awareness none of the buildings listed in its 2007 report had been condemned to be demolished.
"But this turned out to be only a temporary reprieve for the city's heritage. Since the beginning of 2008, numerous other buildings have been destroyed outright or suffered major losses to their original fabric," said Edmund Harris, chief editor of the report. "The scale of destruction is almost comparable to that of the 1930s-1960s, the difference being that today what is under attack is those few structures that were lucky enough to survive Stalin and Khrushchev's purges."
In demolishing old Moscow, Soviet dictator Josef Stalin did not hesitate to splurge state funds on giant and pompous high-rise buildings to accommodate ministries or house the Soviet elite.
His extravagance, intended to immortalize "the capital of workers and peasants," was followed by the dreary style of Nikita Khrushchev who built the cavernous steel-and-iron Palace of Congresses amid the centuries-old Byzantine environment of the Kremlin's onion-shaped church domes and crenellated walls.
"Today, there is no other capital city in peace-time Europe that is being subjected to such devastation for the sake of earning a fast megabuck," the report concluded.
Despite the hypocrisy and tough state control of communist rule, nostalgic Muscovites have kindly memories of many buildings constructed under Stalin, Khrushchev and then during the "stagnation period" of Leonid Brezhnev.
"The outcry caused by the demolition of the Hotel Moskva and the reconstruction of Children's World [department store] is a testament to the affection and esteem in which Stalin-period buildings are held by Muscovites," wrote Calder Loth of SAVE Europe's Heritage.
Anna Bronovitskaya, associate professor of the Moscow Architectural Institute, said without buildings erected under Khrushchev and Brezhnev, "Moscow would be all the poorer."
Facing a barrage of criticism from experts and ordinary Muscovites alike, officials say they knock down old buildings and erect new ones to improve safety and modernize the city.
Yuri Luzhkov, the city's powerful Mayor, has overseen the construction of office skyscrapers overshadowing the city's elegant palaces, churches and old single-storey houses.
"An all-round lowering of standards, the triumph of vandalism and the obstruction of every last vacant space on the skyline is the legacy that the last decade has bequeathed to Moscow," said Nataliya Bronovitskaya, an art historian.