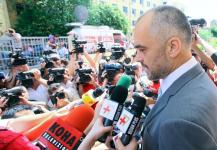 Socialist Party leader Edi Rama will launch a political campaign to seek early elections, after his party agreed that the June 28 parliamentary election was marred by fraud.
On Wednesday, a day after the national assembly of the Socialist Party voted in favour of a resolution to push for fresh polls, sponsored by Rama, he said that, as far as he was concerned, the new government did not have a popular mandate.
"[Prime Minister Sali] Berisha and his government are responsible for deforming the electoral process," Rama told reporters. "Our position is based on the truth and aims to put the government and parliament in the spot that they merit. [It] also provides the basis for early parliamentary elections," he said.
Rama announced that he would launch a nation-wide campaign tour in support of the party decision, stating that, "together with the people", he would reject the results of the elections.
However, not everyone in the Socialist Party agrees with his position that the poll was stolen by the government, and calls have mounted for Rama to resign.
Speaking after Tuesday's assembly meeting, former economics minister Arben Malaj said the party should recognise the result of the poll, despite the problems identified during the electoral process.
"[Being the] parliamentary opposition does not mean that we give up contesting the deformations made to the electoral process," he said.
Another critic was Ben Blushi, another former minister who, with Malaj, is seen as a possible challenger for the party leadership when an extraordinary national party congress convenes at the end of August.
Blushi called on Rama to respect a Socialist Party statute which deigns that the party leader must resign after an election loss.
"Because of what happened in the June 28 [poll], which was not what we expected, the party should undergo a normal reflective process and respect its statute," he said.