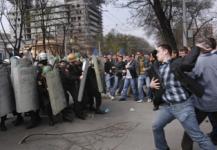 Bucharest is waiting expectantly for the results of today's Moldovan elections, which could help determine whether the former-Soviet republic remains in Russia's orbit.
Around 2.6 million Moldovans began voting early on Wednesday in snap parliamentary elections
Polls suggested the ruling Communist Party was leading with around 31 percent, but analysts said that four pro-European parties could win a combined 33 percent and form an alliance to elect the country's next president, shifting the country toward the west.
Moldova has been in political paralysis since April 5 parliamentary elections sparked violent protests, with the opposition claiming the ballot was faked.
Elections in Moldova are followed carefully in neighbouring Romania. Most of Moldova was part of Romania until its annexation by the former Soviet Union in 1940. Moldova won independence from the Soviet Union in 1991.
Relations between the neighbouring countries have deteriorated since Moldova's Communist government accused Romania of inciting riots that occurred in the wake of the contested April elections.
Bilateral relations between Romania and Moldova worsened further when then-Romanian ambassador to Moldova was declared "persona non grata".