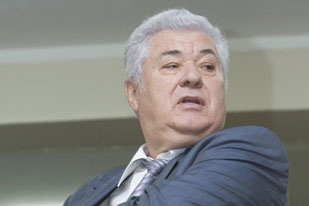 Moldova's opposition liberal parties have said that they will try to form a coalition government after the ruling Communist party failed to win a majority in parliamentary elections, according to partial results.
With 76 percent of ballots counted on Thursday, the Communists had won 45.9 per cent of the vote, a result which would give them just 49 seats in the 101-member parliament.
"Democracy and truth has finally been victorious. We fought for this for so long and with so many difficulties," Vlad Filat, leader of the opposition Liberal Democrats, said.
"There will definitely be a coalition, a wide coalition in the interests of the people. We will find the necessary compromise and find agreement so that Moldova finally gets democratic rule."
The Liberal Democrats were second in the race, according to the partial results, with 16.1 per cent of the vote, well behind the Communist party.
But if a deal can be reached with the Democrats, who were in third place with 13.2 per cent, the Liberals, who were fourth with 12.9 per cent, and the Our Moldova Alliance, with 7.6 per cent of the vote, a government could be formed.
'Developing democracy'
"In a short time we will find a favourable solution to develop democracy in Moldova," Serafim Urechean, the head of the Our Moldova Alliance, said.
However, Marian Lupu, the Democratic party leader, is a former Communist and if his party were to join his former allies then it could give them enough seats to elect a new president.
Lupu has ruled out any alliance with the Communists unless Vladimir Voronin, Moldova's president since 2001, agrees to leave politics.
Voronin, who has served his two terms as president but made it clear he wants to retain some political position, called the elections in June, after politicians failed to elect a new president due to a boycott by the opposition parties.
Elections in the former Soviet state in April, in which the Communists won about 50 per cent of the vote, triggered huge street protests and riots, which left at least two people dead.
Speaking as the results began to come in on Wednesday night, Voronin hailed the fact that this election appeared to have been conducted relatively peacefully.
"This is the most important thing for us in power," he said. "This is the most important achievement – that we were able to organise civilised and democratic elections."
About 3,000 foreign and Moldovan observers monitored Wednesday's vote, in which about 59 per cent of eligible voters took part.