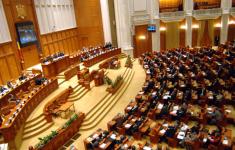 The parliamentary committee investigating Romanian Tourism Minister Elena Udrea decided in its first meeting on Tuesday to question journalists who wrote about her allegedly illegal use of public funds.
Chair Ludovic Orban said the committee had yet to decide whether the minister would be invited to attend its next meeting, saying this would depend on the results of the committee's examination of ministry documents.
The committee, which includes representatives of the Social Democratic Party, the National Liberal Party and the Democratic Union of Hungarians in Romania, agreed that it would decide on who to invite to appear before it as investigations progressed.
The committee has been tasked with examining tourism ministry spending in two campaigns: "Romania, Land of Choice" and "Easter in Bucovina". The parliamentary body will also look into the awarding of a contract for the organisation of an event dubbed "Light Near the Sea" and on public spending on concerts by Goran Bregovic and the Wedding Funeral Orchestra at the Black Sea resort of Mamaia.