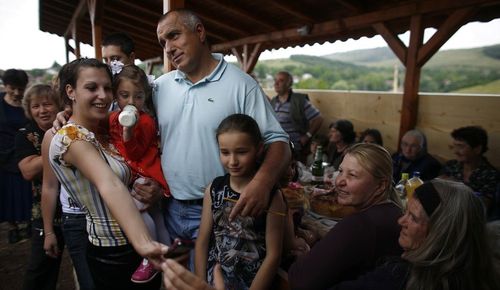 Bulgarian Prime Minister Boiko Borissov vowed that the government will cover the expenses from the August 4 earthquake during his visit to the region on August 7. "The state will intervene and assist citizens in need," said Borissov during his visit to Shabla, northeastern Bulgaria.
"Unfortunately, you people don't have the habit of insuring your property," he said, addressing an 85-year-old granny, by the name of Mitka, whose house suffered the most from the quake.
The Premier promised that the government would provide money to cover all the expenses, citing that during the Chelopechene disaster, he allocated three million leva to the local population whose property suffered damages from ordinance explosions. Borissov underlined the importance of the "state helping small municipalities who have limited budget capabilities to cope themselves".
"We will stop travelling by airplane, we will travel less. We will make all necessary savings at the top to provide money for the needy," he said.
Krassimir Krustev, the mayor of Shabla, has said that between 80 000 to 100 000 leva are required to cover the damages in the town and restore the damaged church, whereas 63 000 leva are needed for the repair works in the village of Kamen Bryag.
Meanwhile, the mayor of Kavarna, Tsonko Tsonev told Borissov that he doesn't want any state money to mend damages from the earthquake. Instead, he would like Borissov to supply his municipality with a fire-truck, for which Kavarna has been waiting for six years.