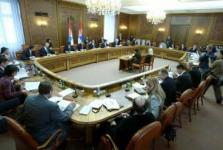 The Serbian government will choose the best possible moment for submitting its EU membership request, which will occur by year's end, a top Serbian official told daily Blic.
The director of the EU Integration Office in Serbia, Milica Delevic, told the daily on Sunday: "This shows the desire to speed Serbia's EU integration process, but also the concern that the demand for EU membership not be wasted." 
"That is why it is important to work on getting support from EU partners, without which it is likely that our demand will be put on hold," she said.
Delevic did not want to cite any dates for the unblocking of the Interim Trade Agreement between the EU and Serbia – part of the Stabilisation and Association Agreement. However, she opined that Serbia is now paying for its previous tardiness.
While noting that questions are constantly raised concerning a potential accession date, Delevic said she finds it more important to worry about whether Serbia is dedicated to fulfilling the necessary conditions and whether it is moving fast enough on its EU integration path.
She added that people need to know that the support Serbia seeks from the EU is not occuring on the accession day, but on the path to integration.
Responding to a quesiton on the issue, Delevic said that Iceland's integration process is an additional stimulus for the EU enlargement process as a whole, and is a positive for western Balkan countries.