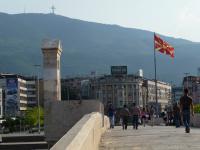 SKOPJE, Macedonia
A racially motivated scuffle involving ethnic Macedonian football fans and Albanian residents of Skopje's Nerezi district has drawn strong condemnation from all sides.
Women and children were reportedly among the seven people injured in the incident, which took place late on Sunday. A standoff ensued between groups of several hundred men on each side, separated by police, and several vehicles were damaged.
The hostilities allegedly started when a fan group known as Komiti attacked Nerezi residents on the way to a football match. Local residents quickly gathered to retaliate.
Interior Minister Gordana Jankulovska said eight fans of Vardar football club will face criminal charges over their involvement in the incident. Responding to accusations that police were slow to respond, she argued that officers prevented an escalation by separating the two groups.
The incident was condemned by all political factions. Prime Minister Nikola Gruevski said all wrongdoers should be identified and brought to justice.
The two main parties in the ruling coalition, Gruevski's centre-right VMRO-DPMNE and the Democratic Union for Integration, also condemned the incident. The largest opposition party, the Social Democrats, appealed for adequate measures to be taken against those involved.
The opposition Democratic Party of Albanians said the violence demonstrates the fragility of ethnic relations in the country, blaming this situation on the government.
"The police only stood and watched. We do not feel safe anymore and we demand changes in the local police", Nerezi communal leader Bedi Saliu told local media on Monday.
"My wife had wounds on her head from stones thrown at her, and my son was injured too," one Nerezi resident told local daily Utrinski Vesnik. Another local said the football fans shouted ethnic insults at his family.
One boy wearing a Macedonian football shirt was also reported beaten.
In 2001, Macedonia experienced a six-month ethnic Albanian armed insurgency. The conflict ended later in the same year with the signing of the Ohrid Peace Accord.
The agreement gave greater rights to the ethnic Albanians minority, proposing the institution of positive discrimination in employment in the state administration, army and police and greater use of the Albanian language and national symbols.
The different political readings of the agreement's provisions have caused considerable political and ethnic turmoil in intervening years. Nevertheless, the EU and US-guaranteed deal is still seen as a cornerstone for biculturalism and democratic development.
The EU has established the full implementation of the deal as a benchmark for Macedonia's progress towards bloc membership.