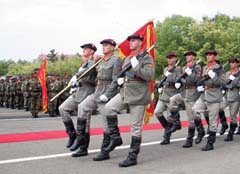 MACEDONIA
Macedonia builds a professionally, well trained army as a guarantee of the territorial integrity and state sovereignty and therefore ARM is one of the greatest Ambassadors of our country, the President Gjorge Ivanov said.
After 2001, Macedonia become security importer, but now it became security exporter, due to it participation in foreign missions under the leadership of EU, NATO and UN, the President Ivanov, who is an ARMY Commander in Chief, said.
We are called a small country on the Balkans, but I'm proud to be part of the great coalition, the world peace coalition, where there is no division between big or small countries, but division between big and brave peacekeepers. Macedonia with its army is big enough for the great coalition; the Minister of Defense pointed out and added that Macedonian soldiers are great peacekeepers.
He pointed out the missions ISAF, Altea, UNIFI and the logistics support of NATO missions on Kosovo.
On occasion of the Day of ARM, Ilinden barracks had a firing of honor.
ARM celebrates 17th anniversary.