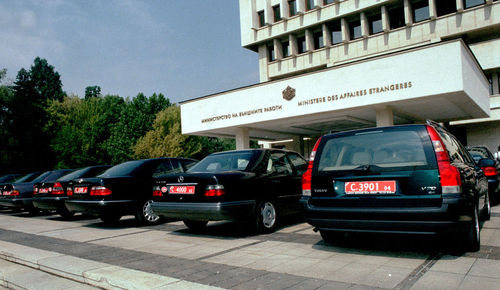 BULGARIA
Four of the nine last-minute diplomatic appointments made by Bulgaria's former government would be cancelled, Foreign Ministry spokesperson Daragovest Goranov said as quoted by Bulgarian BTA news agency on August 18 2009.
These were Boyan Choukov, who was supposed to take the post of Bulgaria's ambassador in Macedonia; Atanas Paparizov, who was approved as Bulgarian consul in New York; Maria Angelieva, who was supposed to be Bulgarian consul in Los Angeles; and Ivan Palchev, approved for Bulgarian consul in Novosibirsk, Russia.
The appointment of Teodora Drenska, slated to become Bulgarian consul in Dublin, which was made before the final wave of diplomatic postings, will not happen either, Goranov said.
Choukov was a foreign policy adviser to former prime minister Sergei Stanishev. Paparizov is a former member of the European Parliament from Stanishev's Bulgarian Socialist Party. Angelieva and Drenska are both former MPs from BSP's former ruling coalition partner, the National Movement for Stabsility and Progress (NMSP). Palchev is a former MP from BSP's other former ruling coalition partner, the Movement for Rights and Freedoms.
According to Draganov, the four did not meet the legal requirements for the posts, as stipulated in the Diplomatic Service Act. The Foreign Ministry would only send career diplomats to postings abroad, he said, which was why the other five appointments made by the previous government would not be reconsidered.
Among these were former deputy foreign minister Radion Popov, who will become ambassador in Morocco; the current ambassador to Australia Lyubomir Todorov, who will become ambassador to Japan; and former Bulgarian ambassador to Afghanistan Krassimir Toulechki, who will become Bulgaria's ambassador to Kosovo.
The nine appointments were made on July 9 2009, four days after the general elections lost by the ruling tripartite coalition, when it was clear that Boiko Borissov, ruler of the opposition GERB party, would be the new prime minister.
On July 8 2009, Borissov said: "I want to ask Prime Minister Sergei Stanishev not to appoint any diplomats at the Cabinet's Thursday (July 9) weekly session".
"Taking such decisions is neither right, nor moral, especially since the people's vote has been clear," Borissov said. "We will form a cabinet as soon as possible and nothing is forcing Stanishev to take such decisions," Borissov said.