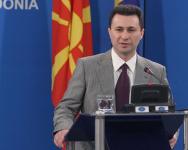 SKOPJE, Macedonia
Today, Zoran Jolevski, Macedonia's negotiator in the Athens-Skopje name talks, is expected to give his country's response to the latest set of proposals tabled by UN mediator Matthew Nimetz.
On Wednesday, Greece said that it would not accept the latest Nimetz proposals if a compromise formulation of Macedonia's official name was not intended for use on the wider international stage, local media reported.
The talks with Greece "are a continuous process; dialogue in which we have been participating, contributing and hope [will] result in some solution," Macedonian Prime Minister Nikola Gruevski told reporters on Wednesday, after hearing news of the Greek response.
According to local media reports, during his July visit to the region Nimetz tabled variations of the name Northern Macedonia for the consideration of both parties.
Last year, Athens blocked Skopje's NATO accession over the dispute. Greece is also threatening to hamper Macedonia's EU accession, arguing that the country's current formal name, Republic of Macedonia, implies that Skopje maintains territorial claims on its own northern province of Macedonia.
While characterising the Greek reply as "not positive", Nimetz said yesterday that the talks would continue.
Speaking to reporters on Wednesday, Macedonian opposition leader Branko Crvenkovski urged the government to engage more openly in finding a resolution to the dispute.
The Social Democrats head said that, while Greece is only risking its political reputation, Macedonia has much more to lose since its Euro-Atlantic aspirations depend on reaching an agreement on the naming issue.