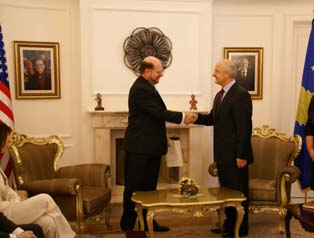 KOSOVO
New US Ambassador Christopher Dell presented his credentials to Kosovo President Fatmir Sejdiu on Monday, reiterating his country's strong support for Kosovo's independence.
This is the second time Ambassador Dell has led the US diplomatic mission in Kosovo. He was chief of mission in Pristina from 2000 to 2001.
In his first public statement since arriving in Pristina, he told Kosovo's president: "I look forward to working with you, with the prime minister and the government and parliament, as well as the people of Kosovo and our international partners during my time here."
"Many Kosovars have already welcomed me "home", and I am truly delighted to be coming home again after eight years."
"Of course, much has changed in that time and everywhere I look I see signs of great progress," he said.
The position of US Ambassador is seen as one of the most important in the country, given the two country's close ties.
Dell added: "The foundation of America's policy towards Kosovo is simple and clear: First, the independence of the Republic of Kosovo is irreversible, and US support for Kosovo's independence is unflinching"
"Second, we remain committed to our joint project of building a democratic, law-abiding, multiethnic, tolerant and prosperous country that will become a full member of the trans-Atlantic and European family."
Dell replaces Tina Kaidanow, who has taken up the position of deputy assistant secretary of state for European and Eurasian affairs.