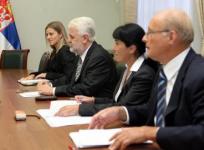 SERBIA
IMF representatives believe that increasing VAT is the only adequate measure the Serbian government can take to address its budget deficit, but are willing to accept other propositions, daily Blic reports.
The IMF officials argue that public sector cuts proposed by the Serbian government, while laudable, are only a short-term measure; the impact of which would only be felt in 2011, the daily reports.
The IMF delegation arrived in Belgrade on Monday to review Serbia's progress in meeting benchmarks established in negotiations for a €2.92 billion IMF standby loan, approved in March. Serbian government officials now want the IMF to approve an additional deficit expansion of 1.5 per cent of GDP, offering public sector cuts in return.
The IMF delegation, headed by Albert Jaeger, is set to meet Serbian Prime Minister Mirko Cvetkovic, Finance Minister Diana Dragutinovic and Labour and Social Policies Minister Rasim Ljajic.
Cvetkovic has presented the government's public sector reform proposals to the IMF officials.
The parties agree that the Serbian government has largely met all its previously agreed IMF obligations, daily Politika reports.
Dragutinovic considers raising taxes on salaries over €400 to be the best solution to the current crisis, daily Press reported last week.
A IMF representative to Serbia, Bogdan Lissovolik, said earlier that he did not see a VAT increase as the only possible option, but that this was the easiest way to resolve the budget deficit.
Politika reports that Ljajic has discussed measures for addressing the impact of the recession. He proposed both long and short-term measures. The short-term moves are to help people living below the poverty line. Long-term measures include the passing of laws on pension and social security systems and are aimed at the redistribution of social payments
During their ten-day visit, the IMF officials are also scheduled to meet representatives of the private sector and academics.