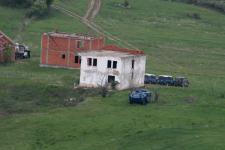 KOSOVO
Several people have been injured after around 100 Serbs and 20 Albanians threw stones at each other in the troubled Kroi i Vitakut//Brdjani neighbourhood of Mitrovica, northern Kosovo.
Serbs were protesting on Tuesday against the resumption of reconstruction work on homes in Mitrovica, which has long been a flashpoint. At the time, some 20 Albanians were working on the site.
Kroi i Vitakut//Brdjani has been the scene of several violent confrontations between Serbs and Albanians since construction started in April. The EU rule of law mission, EULEX, and NATO's Kosovo Force have intervened on a number occasions to separate the sides.
Serbian protesters are opposed to the reconstruction of Albanian homes in the north of Mitrovica, which is predominately inhabited by Serbs.
"Five Albanians and two Serbs were injured throwing stones at each other. Intervention followed by Kosovo police and EULEX, throwing tear gas and dispersing the protesters," Kosovo police spokesperson Arber Beka told Balkan Insight.
He said that those injured in the incident have been sent for medical treatment.
Beka added that after the protest was suppressed there was an explosion – allegedly caused by a hand grenade. No injuries were reported, he said.
He claimed that the situation is calm and that work on the houses is continuing. No arrests were made.
The reconstruction work in Kroi i Vitakut//Brdjani was delayed for some time when one of the construction company's truck drivers lost control of his vehicle and crashed into a house, causing the deaths of three children.