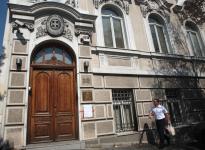 SERBIA
A previously unknown anarchist group, Crni Ilija, has claimed responsibility for Monday's firebombing of the Greek embassy in Belgrade, Beta news agency reported Wednesday.
In a statement released to the press, the group said it is demanding the release of fellow anarchist Thodoros Iliopoulos, who was arrested during a riot in Greece last December.
One of a group of five young men threw two Molotov cocktails at the Greek embassy in Belgrade late Monday night. The quintet then split into two groups, one of which left the scene in a cab. The other group left on foot.
No one was hurt in the incident. A window was broken and the fire-bombs caused minor damage to the facade, but otherwise the embassy building was unscathed.
In the statement the group claims that Belgrade anarchists have decided to "join their comrades in Greece and the entire world, who are implementing actions of solidarity with Iliopoulos, and demanding that he be freed".
The statement says that Iliopoulos has been on hunger strike for 46 days, seeking release.
An advisor to the Greek embassy's press department, Petros Tsarouchis, told Beta news agency that all embassy services are operating regularly.
"The damage caused to the embassy building is really minor," he added.
Serbian President Boris Tadic condemned the attack, saying it was "intolerable".
Tadic met Greek Ambassador Dimosthenis Stoidis on Tuesday, and promised that state institutions would do everything to find and punish those responsible for the attack, Tanjug reports.