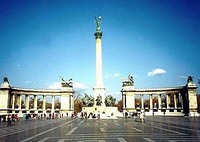 GEORGIA
The Deputy Speaker of Georgian Parliament, Georgi Tsereteli, has held several meetings while on an unofficial visit to Hungary. Georgia's internal situation was discussed there.
Tsereteli met with the spokesman from the CE Monitoring Committee, Matias Yorsh, and members of the Hungary-Georgia Friendship Group in Hungary's Parliament, Yanosh Horvat and Kornel Almashi.
During these meetings Tsereteli informed the Hungarian side about the current political processes in Georgia and the reforming of the constitution, the electoral code and major spheres of Georgian foreign policy, Georgian Parliament said.
Tsereteli spoke in detail about Deputy President Joseph Biden's visit to Georgia and thanked Hungarian MPs for their support for Georgia in the CE and stressed that four members of the Hungarian delegation signing at the CE summer session of FIDZS was a sign of significant political support.
Yorsh said that the issue will be raised at the autumn session of the CE Parliamentary Assembly. Hungarian MPs will continue to support Georgia.
Prospects of development for Georgian-Hungarian bilateral relations were also discussed at the meetings. He stressed the importance of Hungary's experience in establishing close relations with the EU within the 'Eastern Partnership' and the significance of the Nabucco Club, which was established in Hungary by an initiative from the Georgian Embassy.
It dealt with the Chairman of Georgian Parliament David Bakradze's possible visit to Hungary and visits from parliamentary delegations from both countries. The Hungarian side shows an interest in these visits.
Tsereteli also met with representatives of the Georgian Diaspora in Hungary