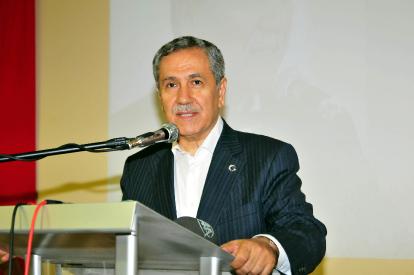 TURKEY
Deputy PM Bülent Arınç lashes opposition claims of 'treason' due to his government's Kurdish initiative and praises the so-called democratic move, using the Kurdish expression 'Xwede şi te razi,' which means 'thank you' in Kurdish
Deputy Prime Minister Bülent Arınç censured opposition claims of 'treason' and praised the so-called democratic move of his ruling party, using the Kurdish expression "Xwede şi te razi be" – which means "Thanks, God bless you for what you've done."
Both the Nationalist Movement Party, or MHP, and the Republican People's Party, or CHP, have been criticizing the ruling Justice and Development Party, or AKP, for its Kurdish initiative. Claiming that broadcasting or teaching Kurdish is a part of a divisive project against Turkey's unity, the opposition has accused the government of high treason and refused to compromise.
"Especially these two political parties [MHP and CHP] target the government with harsh accusations of treason and separatism. It is unfair and wrong. We don't deserve it. Those who accuse us should look at themselves first. We are not traitors," Arınç said Sunday at an iftar – fast breaking dinner – in his hometown Manisa.
Advocating that the decades-old Kurdish problem is the biggest obstacle faced by Turkey, he said: "No obstacle has stood before us longer. So what should we do? People should be able to identify and represent themselves within the scope of democratic rights and freedom. If they have another mother tongue, they should be free to speak it."
He emphasized that language freedom is not divisive, saying: "The Kurdish language was forbidden in the past and this caused us to be at loggerheads. We have since, however, abolished such a controversy. What happened? Was it the end of the world? TRT-6 has been broadcasting in Kurdish for almost a year."
"When someone says 'ser çeva', you don't understand what he means. But he is saying 'you're welcome.' I ask those who can speak English, what do you know if not 'thank you?' Thank you is valid everywhere. Let's say 'Xwede şi te razi be' but know what it means."
State-run TRT broadcasting company will open new TV stations in Arabic, Persian and English, Arınç said. Hinting that the outlawed Kurdistan Workers' Party, or PKK, had misused the language barrier in the country, he said: "Let people speak their mother tongue. [The PKK] used to misuse this regulation to convince people to join the armed militias. How did the terror problem erupt in Turkey? That's why we insist on the democratic move."
He said 50 percent of the Turkish public has backed the project from the beginning in contrary to the opposition parties' remarks. "People understand and trust what the AK Party says. The public will punish and reward accordingly those who oppose the Kurdish initiative and those who try to stop the bloodshed," he said.