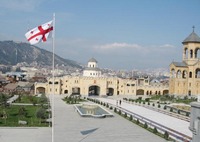 GEORGIA
The first conference of a new project 'Movement for Fair Georgia' – 'Georgia tomorrow' on 'What must be Georgian foreign policy?' is held in 'Tori' hotel of Tbilisi.
Leaders of the movement, representatives of regional offices and famous experts participate in the meeting.
The meeting is held to discuss Georgian future and its foreign policy with experts, leader of the movement, Zurab Nogaideli, said before the meeting.
"We want to listen to experts' views and form our position in the nearest future. The principal thing we suggest public is improvement of relations with Russia," he said. Nogaideli expressed hope that other political forces will join this initiative.
The party emphasizes restoration of undermined relations with neighbors and launch of a dialogue with Russia due to priorities of foreign policy, one of leaders of the movement, Petre Mamradze, said.
"Georgian foreign policy must serve interests of national security. Georgian foreign policy ruins and creates threat to statehood during these years. Our initiative is to return allies' trust in our foreign policy, restoration of normal relations with neighbors. Many people do not know that these relations are greatly undermined now. We also must launch a dialogue with Russia. It will strengthen our statehood," Mamradze said.
Expert Gia Nodia said that Georgia has no principal problems with any of neighboring countries except for Russia. "I have own views. I will get familiarize participants of the meeting with them in case of interest," he said.
During the conference experts will estimate expected situation given current reality. But the movement will present its political approaches due to priorities of foreign policy.