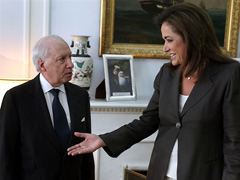 GREECE, MACEDONIA
Greek Foreign Minister Dora Bakoyannis is expected to meet UN mediator Matthew Nimetz later this month. The meeting with Nimitz has been scheduled for September 27 in New York.
Bakoyannis and Nimitz will discuss the course of negotiations for resolution of the name row between Greece and Macedonia.
The meeting will be held in the framework of Bakoyannis' trip to the United States, where she will attend the session of the United Nations General Assembly.
During the stay in the United States, Bakoyannis will meet with U.S. Secretary of State Hillary Clinton, Russian Foreign Minister Sergei Lavrov, and UN Secretary General Ban Ki-moon. Bakoyannis is expected to make an address to the UN General Assembly on September 28.