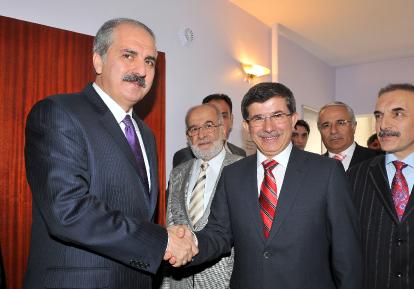 TURKEY
Foreign Minister Ahmet Davutoğlu meets with three opposition parties to discuss the reconciliation process with Armenia and urge them to support the two proposed protocols in the upcoming parliamentary vote.
Foreign Minister Ahmet Davutoğlu consecutively visited three opposition parties Tuesday afternoon to urge them to back the two agreed-upon protocols related to the Armenian reconciliation process.
His tour started with the Welfare Party, or SP, which is known for its pro-Islam line. Prime Minister Recep Tayyip Erdoğan and his allies shared the same roots with the SP before they set up the ruling Justice and Development Party, or AKP. SP leader Numan Kurtulmuş, however, seemed to be unconvinced based on his remarks after the meeting.
"It means an obvious concession. Turkey mustn't open the border gate unless Armenia withdraws from the occupied lands of Nagorno-Karabakh. In order to make new friendships and gain credit in the international scene, we don't have the right to upset our Azerbaijani brothers as the Azerbaijani-Armenian dispute has been ongoing for more than 17 years," he told reporters.
With hopes of ending century-old hostility between two neighbors, Davutoğlu continued his meetings at the headquarters of the main opposition Republican People's Party, or CHP.
CHP leader Deniz Baykal also seemed unconvinced, criticizing that the protocols are "too ambiguous," except for the article on the border opening. "There are no signs of ending the occupation in Nagorno-Karabakh and recognizing the Kars Agreement [which defines the eastern Turkish border]. Nothing is clear yet how the so-called genocide claims will be solved or what sort of academics should convene with what authority," Baykal said.
"Only the border-opening article depends on a timetable. There is legal binding in one hand and hopeful and wishful waiting in the other," he said, referring to the long-awaited European Union promises. Turkey had inked an additional protocol and agreed to open its ports to new-EU member Cyprus in 2004 as a result of promises to end isolation over northern Cyprus.
Davutoğlu completed his tour with talks with the Democratic Left Party, or DSP. DSP leader Masum Türker confirmed that it was a productive and informative meeting. Davutoğlu underscored how a national consensus is important and reiterated his call on opposition leaders to look closely at the protocols and provide maximum contribution to the normalization process.
US envoy reiterates his support
U.S. Ambassador to Ankara James Jeffrey expressed his support for the Armenia-Turkey reconciliation process on Tuesday after his talks with Parliament Speaker Mehmet Ali Şahin.
"As expressed before, we support this process and hope it will continue," Jeffrey told reporters.
Avoiding further comments, he said: "The subject is between Turkey and Armenia, so you will decide. We politically back and seek peace and stability throughout the Caucasus. We play a key role in the Minsk Group [to solve the Azerbaijani-Armenian dispute] and especially support the process between Turkey and Armenia."