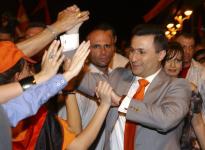 MACEDONIA
Although political parties deny it, the atmosphere in the country indicates that Macedonians could be heading to the polls soon, political analysts say.
The ruling centre-right VMRO-DPMNE, which instigated and won the 2008 snap election, could again catch the opposition Social Democrats, who are is in the midst of internal party reforms, off guard.
The VMRO-DPNME could also seize on important developments in Macedonia's EU integration process to extend its mandate, political analysts tell daily Utrinski Vesnik.
The government expects a positive European Commission report this autumn, that contains a recommendation for the start of EU accession talks. In addition, it is expected that Macedonia will be included in the EU visa-free programme from the start of 2010.
"If the ruling parties count on a positive outcome that would cause […] euphoria at home, the moment could be used to secure a fresh term in power," Professor Biljana Vankovska, from Skopje's Institute for War and Peace Studies, says.
Media speculation has also been fueled by the conduct of Prime Minister Nikola Gruevski, who appears to be acting as if he is in the period immediately before an election campaign, laying cornerstones for new projects on an almost daily basis and publishing photos of the events on his Facebook site, the analysts say.
The Social Democrats have just publicised their new platform and are yet to officially present it to the public. The party underwent substantial personal changes this summer, that included the election of a new leader, Branko Crvenkovski, whose aim is to return the party to power after several galling election defeats since 2006. The Social Democrats are expected to reveal their shadow cabinet soon.