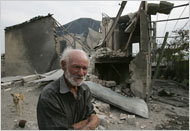 European Union monitors are stepping up their patrols in Georgia ahead of the release of a much anticipated report on the origins of last year's war in South Ossetia, in case the report's conclusions reignite tensions around the breakaway territories of Abkhazia and South Ossetia.
There has been heated speculation about the European Union report, which will be presented next Wednesday to the organization's Council of Ministers in Brussels. Both Russia and Georgia maintain that they bear no responsibility for the war's outbreak, and each says it hopes that its version of events will be the one that the commission writes into the historic record.
The report could make political waves if it sharply apportions blame, instead of concluding, as many in the West have, that both governments bear some responsibility. Georgia's president, Mikheil Saakashvili, in New York City to address the United Nations General Assembly, dismissed a report in the German magazine Der Spiegel that said he would be largely blamed for starting the war.
"Nobody takes this kind of newspaper [sic] quote seriously because everybody who was there — and there were serious people there — everybody knows what happened," Mr. Saakashvili said Tuesday on the CNN program "American Morning." He said Georgia was too small a country to prevail in a war with Russia.
"We are not crazy in any way," he said.
A Russian deputy foreign minister, Grigory B. Karasin, said he expected an "honest and unbiased report." He noted that Russian officials met with the commission's leader for a final round of questioning as recently as last week, making available a major figure: Gen. Maj. Marat Kulakhmetov, who led a detachment of Russian peacekeeping troops in South Ossetia on the night the war broke out.
"We seek the truth, and we are convinced the truth is on our side," Mr. Karasin told the Interfax news service during a trip to Astrakhan, in southern Russia.
In December, the European Union established the Independent International Fact-Finding Mission on the Conflict in Georgia, under the leadership of a Swiss diplomat, Ambassador Heidi Tagliavini. The inquiry was originally scheduled to present its conclusions at the end of July, as tensions were rising on the eve of the war's anniversary. The release was postponed for two months because investigators received a raft of new documents, organizers have said.
Ms. Tagliavini and her two deputies have called on 19 experts in such topics as international law and Georgia-Russia relations, and are also working with an advisory board that includes former government, military and humanitarian officials.
In preparation for the report's release, the European Union Monitoring Mission in Georgia, which has no connection with the war inquiry, is increasing its patrols around South Ossetia and Abkhazia by about 40 percent, especially early next week, said Alexandra Issacovitch, a spokeswoman for the mission. The authorities said they were not expecting violence, but wanted the capability to double-check allegations of gunfire or a military buildup on the boundary, she said.
"Maybe there would be some party that is not very happy with what is said," Ms. Issacovitch said.
In an open letter published Tuesday in The Guardian, a group of European intellectuals — including Vaclav Havel, the former Czech president, and the French philosopher Bernard-Henri Lévy — urged Europe to stand behind Georgia as the commission released its results.
"A big power will always find or engineer a pretext to invade a neighbor whose independence it resents," the letter said. "We should remember that Hitler accused the Poles of commencing hostilities."
But Oksana Antonenko, who organized talks between Georgian and South Ossetian officials in 2005, said she doubted that the report would reach a stark conclusion.
"People somehow think this report is going to apportion blame," said Ms. Antonenko, a senior fellow at the International Institute for Strategic Studies in London. "The truth is, this commission really did not have access to the type of intelligence that would have been necessary to indisputably assert something new."
By now, she added, most countries have already adjusted their policies, and people have long since made up their minds.
"Nobody wants to open up any real debate about what went wrong," she said. "This commission comes at a time when all sides want this issue to be closed."