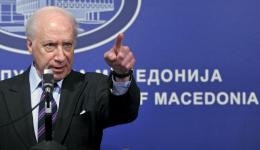 Enough ideas are on the table for Macedonia and Greece to start thinking creatively and find a solution for their "name" spat, the UN mediator Matthew Nimetz said Thursday in New York after meeting Macedonian President Georgi Ivanov.
"I intend to resume the talks as soon as the new government in Greece is elected. Let's seize the moment and see if a solution may be found," Nimetz was quoted by local MIA news agency as saying after the meeting.
The early elections in Greece are slated for 4 October.
"I believe that the talks we had during the summer were constructive and both parties demonstrated a serious approach to some of my ideas," Nimetz added, according to MIA.
Media speculate that Nimetz's last set of ideas based on the name Northern Macedonia are still in play.
Skopje and Athens are engulfed in a long standing row over the name Macedonia. The conflict escalated last year when Athens blocked Skopje's NATO accession arguing that the country should first change its constitutional name Republic of Macedonia.
Athens argues that the name, which is the same as the Greek northern province, implies Skopje's territorial claims towards northern Greece. Greece threatens to block Macedonia's European Union entry as well, pending a solution.
During this week's meetings with Ivanov at the sidelines of the UN General Assembly, both the US Deputy Secretary of State James Steinberg, and NATO Secretary General Anders Fogh Rasmussen, called for a swift settlement that would open Macedonia's way to NATO and the European Union.
During his meetings with US and NATO officials Ivanov reiterated that Macedonia continues to insist on the so-called double name formula, that foresees Skopje using its constitutional name in all relations expect with Greece.
Local media comment that this does not bode well for the resumption of talks as Greece has already rejected this model. Athens insists on a compound name that would be used everywhere and would be distinct the state from their province.
Ivanov's meeting with UN Secretary General Ban Ki-moon, set for Friday will also focused on the name dispute.