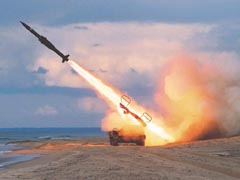 The United States will not move any missile defenses to the Balkans, a top U.S. official said Thursday.
The statement comes after President Barack Obama dropped plans by predecessor George W. Bush for ground-based interceptor missiles in Poland and a related radar site in the Czech Republic to provide European protection from Iran's short- and medium-range missiles.
"The intent is to use sea-based defense which, of course, has great flexibility as those ships can be moved to many different locations which gives us very good ability to employ," Gallagher said after meeting Montenegro's army chief of staff, Vice Admiral Dragan Samardzic.
After the U.S. change in plan, Balkan media speculated the missile shield might be deployed in the region instead.