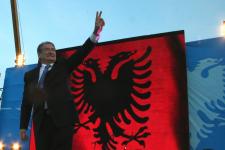 Albania's Prime Minister Sali Berisha gave an impassioned speech this weekend to the UN General Assembly appealing for more countries to recognise Kosovo's independence.
Arguing that further recognitions would strengthen peace and stability in the region, he thanked the 62 countries who have already recognised the country's independence.
"All countries that recognise the Republic of Kosovo and the international institutions that accepted it in their fora as an independent member-state did so because, above all else, they are convinced that the independence of Kosovo and its international recognition bring a major contribution to the peace and stability in the Balkan region," he said.
Meanwhile, Serbia's foreign minister said he had sent a protest note to the UN about the attendance of a delegation from Kosovo at the organisation's annual General Assembly gathering.
"We have submitted a serious protest to the UN Secretariat and called for an immediate investigation into how this occurred," Vuk Jeremic said, as reported on the B92 website.
He said that Kosovo's president Fatmir Sejdiu and members of the Kosovo delegation are private citizens and that cannot be allowed to attend a session of the UN General Assembly.
Kosovo did not take part in the General Assembly, although its delegation did meet representatives of various UN member states on the sidelines of the meeting.
Sejdiu brushed off Serbia's letter as irrational. "I do not pay much attention to protests from Serbia since they (the protests) are irrational. I believe it would be much better for Serbia to get back to reality as soon as possible and live in a European spirit like other countries do," said Sejdiu, as quoted by the Beta newsagency.
"Qatar, Malawi and Tuvalu are about to recognise (Kosovo's independence). I believe that Pakistan will do the same very soon," he explained.