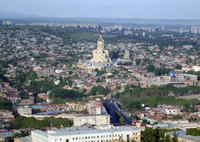 Conclusion of the international commission on investigation of reasons the war in Georgia, led by Heidi Tagliavini, will be known on Sept. 30, Georgian Deputy Foreign Minister, David Jalaganiya, said at a traditional Monday briefing on Sept. 28.
He said the text of the conclusion will be simultaneously submitted to the EU and Russian and Georgian Ambassadors.
Jalaganiya stressed that Georgia was one of the initiators of this committee and actively cooperated with it in the process.