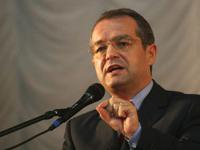 Romania's Prime Minister Emil Boc on Monday fired the country's Interior Minister Dan Nica citing "poor results in his post", a move that has heightened tensions between the ruling coalition.
"I've informed our partners in the ruling coalition about my intention for the replacement of Interior Minister and have asked the Social Democrats – PSD to nominate a replacement within 24 hours," said Boc, who is also the leader of ruling center-right Liberal Democratic Party, PDL, currently in coalition with the Social Democrats.
Boc also said he fired Nica following controversial comments he made last week indicating possible fraud in the upcoming presidential elections through what the interior minister called 'election tourism'.
Nica said that his party could not rent a bus on 22 November and 6 December, the two days slated for the presidential elections, since all buses have been booked by the PSD.
The Social Democrats have threatened to withdraw their ministers in protest against the decision, a move that would cause the coalition government to collapse.
"This firing is an attack that throws Romania into an unprecedented political crisis," said Nica.
Relations between the two parties in the coalition have been tense ever since the government came to power in December 2008.
Mircea Geoana, leader of PSD, said that the latest move follows "orders from President Traian Basescu, who plans to fully control the electoral campaign".
President Traian Basescu, who has ties to the PDL, is expected to run for re-election in November's polls. His main rival, according to opinion polls, is Geoana.
Nica is the third Interior Minister this year, with his previous incumbents resigning following disputes between ruling coalition parties over the head of the country's intelligence agency.
The interior ministry is powerful because it controls the controversial domestic intelligence agency, and is led by a Social Democrat according to an agreement made when the coalition was formed.
Both the PDL and PSD have nine ministries each, while the Justice Minister is independent.