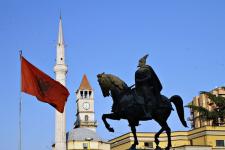 Albania's Education Ministry said Tuesday that a history textbook for twelfth graders, which was excoriated by the press and opposition, will be rewritten.
"Every mistake in the textbooks will be corrected within the year," Education Minister Myqerem Tafaj said in a statement.
Critics of the textbook have slammed it as both historically inaccurate and politically influenced.
The book refers to the 1997 pyramid schemes crises in Albania, which led to a short period of anarchy, as "a communist revolution orchestrated by the Socialist opposition".
It presents former Socialist governments as extremely corrupt, while claiming that the current centre-right government of Prime Minister Sali Berisha, which came to power in 2005, "ushered in a new era" for the country.
The Socialist Party condemned the publication, asking that it be withdrawn the and requesting a public apology from the ministry.
"The high school textbook of this year shows how this dictator [Berisha], wants to rob Albania of its history," Socialist MP Ledi Shamku said in a press conference.
A group of students in Tirana's Cajupi High School held a protest against the textbook on Monday, boycotting lessons.
During the communist regime of former dictator Enver Hoxha, textbook were often imbued with Stalinist ideology and sought to imbue students with the tenets of Hoxha's personality cult.
Faced with growing public discontent, Berisha denounced the textbook on Monday, calling for its revision.
"History should be written objectively and [should present] the truth," Berisha told reporters. "I think it [textbook] should undergo a revision and be rewritten, but this rewriting should be objective," he added.