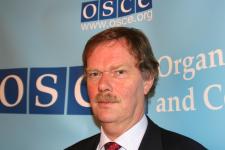 The heads of the European Commission and OSCE in Albania have both enjoined the country's Socialist opposition party to end its parliamentary boycott.
Speaking after a meeting with the minister of foreign affairs, Deputy Premier Ilir Meta, the head of the OSCE office in Tirana, Robert Bosch, said that his organisation would support Albania's implementation of recommendations proposed by the Office of Democratic Institutions and Human Rights, ODIHR, after the recent parliamentary poll.
"In order to do this, the opposition is really necessary […] this must be achieved in parliament," Bosch told reporters.
"As far as I can judge, all legal means have been exhausted and the results of [the poll] announced on August 1 are correct," he said, referring to the June 28 national elections.
The Socialist Party, headed by Tirana Mayor Edi Rama, has contested the results of the poll, claiming that the process was marred by fraud and undue political influence, on the part of the government.
On the basis of Rama's rejection of the poll, all 65 elected Socialist deputies have boycotted parliamentary sessions, while issuing a series of conditions for their return. Chief among these is a parliamentary investigation of the electoral process.
EC delegation head Helmut Lohan also called on the Socialists to return to the legislature. "The EU is interested in the swift return of the opposition to normal parliamentary life," he said.