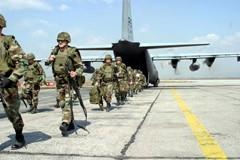 Bosnia and Herzegovina (BiH) will officially hand in its action plan for NATO membership.
The action plan will be handed to NATO Secretary General Andres Faugh Rasmussen by the Chairman of BiH presidency Zeljko Komshic.
Head of NATO quarters in BiH, Sabat Eric said that the country satisfies some of the membership requirements but still has to work on some assignments in the future.
Komshic pointed out that BiH strategic goals are EU and NATO entry, but also said that BiH is aware of the obligations ahead.