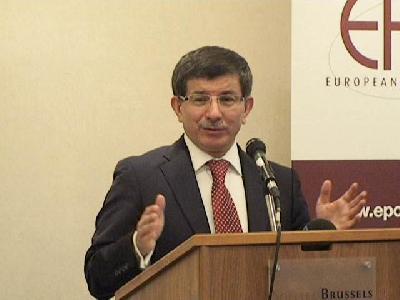 An Irish 'yes' to the Lisbon Treaty would create the legal conditions for future European Union enlargement, Foreign Minister Ahmet Davutoğlu said Friday at a meeting in Brussels.
Turkey can help Europe become a major player on the international stage if Turkey is admitted to the union, EurActiv quoted Davutoğlu as saying. Turkey's chief EU negotiator, Egemen Bağış, echoed Davutoğlu's remarks on the Irish referendum results, saying the approval of the Lisbon Treaty was a sign of EU determination for enlargement.
Turkey wishes to see all EU countries ratify the Lisbon Treaty as soon as possible after the referendum in Ireland, Bağış said, according to a report by the Anatolia news agency. He said the treaty was a reaffirmation of the EU's enlargement policy and reiterated Turkey's commitment to continue on its path to joining the EU.
The referendum was Ireland's second poll after voters initially rejected the EU treaty last year. Final results showed that 67.1 percent of Irish people were in favor of the text aimed at streamlining the workings of the bloc, which has grown from 15 to 27 countries in five years.
'Honest broker'
In Brussels, Davutoğlu met on Friday with European Commission President Jose Manuel Barroso, Enlargement Commissioner Olli Rehn, and Swedish Foreign Minister Carl Bildt in his capacity as representative of the rotating EU presidency.
The Turkish diplomat said his country was a key regional player and was already playing the role of "honest broker" in a number of conflicts in which EU countries have little leverage.
Davutoğlu gave many examples of Turkey's mediating role in conflicts in the Middle East, the Caucasus or during ongoing tensions over Iran's nuclear program. He said his country was pursuing a policy of "zero problems" with its neighbors, with all of whom he said relations were "very good."
Asked by journalists about his country's relations with Greece, where a number of bilateral problems persist, Davutoğlu explained that there were "of course difficulties." But he said there was a big difference compared to the situation 10-15 years ago, because problems were now being dealt with constructively "without escalating tensions." He called Turkish-Greek relations "excellent."
On Cyprus, Davutoğlu accused the Greek Cypriot side of not being constructive in ongoing reunification talks held under United Nations patronage. Among other things, he blamed the Greek Cypriot President Dimitris Christofias for having declined a meeting in New York in trilateral format, with his Turkish Cypriot counterpart Mehmet Ali Talat and a Turkish delegation.