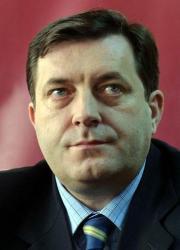 European Parliament Rapporteur for Bosnia-Herzegovina Doris Pack says that Milorad Dodik refuses to listen to any advice and that he is "obstinate."
"Milorad Dodik is so obstinate that I don't think anyone can bring to bear on him or the moves he has in his head, let alone persuade him come to pursue one policy or another in Bosnia-Herzegovina," Pack said of the Republic of Srpska (RS) prime minister.
She told Novi Sad daily Dnevnik that it would be good news for Serbia, Bosnia and the EU if Belgrade officials tried to persuade Dodik to be pragmatic and constructive in Bosnian political life.
"Dodik might heed the advice of Belgrade before Brussels, but I still think that he is so stubborn and so sure that he knows best that there is no adviser that he would listen to," Pack said.
She said that she did not think Belgrade had any influence on Dodik, since the RS leader "does everything his way."
"I am fairly certain that he does not consult anyone on his moves, Brussels or Belgrade. And even if anyone thinks that Belgrade can influence the situation in Bosnia-Herzegovina, it is only a game of Dodik's to show that Belgrade supports him in something he deems important," Pack lamented.
She said that she expected goals in the Bosnian reform process to be defined at the next meeting of EU and U.S. leaders with the country's leading parties, and that politicians in Bosnia-Herzegovina had committed to this.
"I hope that a framework for functionality and effectiveness will be set up on Friday for Bosnia-Herzegovina. I've not given up hope that a functional Bosnia-Herzegovina will be created," Pack stressed.