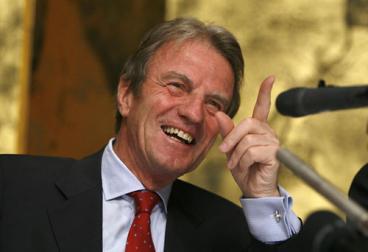 French Foreign Minister Bernard Kouchner says that all the Balkan states should become EU member-states.
"Hurdles remain, but our political position is very clear," Kouchner said, adding that French President Nicolas Sarkozy had said as much, "also unambiguously," to Serbian President Boris Tadić.
The French minister said that the Lisbon Treaty, which is expected to come into force soon, would require a united position for the accession of new member-states.
"But, in our opinion, it's clear, Serbia should be an EU member state," he stressed.
Asked whether the Serbian authorities were making sufficient efforts to arrest war crimes fugitive Ratko Mladić, Kouchner replied: "The proof that they haven't done so is that they've not arrested him."
"But I believe they're doing what they can. They should keep going, that's key," the minister added.
Meanwhile French Ambassador to Serbia Jean-Francois Terral and Serbian Deputy Prime Minister Božidar Đelić told a reception to mark the establishment of a Franco-Serbian Chamber of Commerce that an agreement on a strategic partnership was being drawn up.
France, Serbia to sign partnership agreement
French Foreign Minister Bernard Kouchner says that an agreement on a strategic partnership with Serbia will be signed in late November.
After meeting with Kouchner, Serbian Foreign Minister Vuk Jeremić said that France was ready to set aside money for implementing parts of this agreement.
Jeremić said in Paris that the main topic of his talks with Kouchner yesterday had been the agreement, which was discussed in May by Serbian and French Presidents Boris Tadić and Nicolas Sarkozy.
"The important part we agreed on was the possibility of this document being taken to a higher level. This was initially supposed to be a protocol on partnership like the one that was signed with the majority of East European countries during their EU integration. In Serbia's case, this could be a high level agreement on bilateral cooperation," Jeremić said.
He added that this "shows the great importance France accords to Serbia's European integration process."
The agreement has almost been finalized and could be signed in late November, when Kouchner will be visiting Belgrade.
The agreement will also be signed by Sarkozy and Tadić when the French president visits Belgrade.
Jeremić and Kouchner also discussed liberalization of the visa regime and the two ministers agreed that it was an "absolute priority" at this moment in time.
Kouchner said that he expected a formal decision to be taken on that at the November meeting of EU foreign ministers, and that there should be no problems in taking the next step in the process.
"January 1 really could be the date Serbian citizens are able to begin traveling through EU countries without visas," Jeremić said.
The two men agreed that European integration should be continued on the heels of the Irish adoption of the Lisbon Treaty, and that there should be no delay in the Western Balkans' integration.
Kouchner said that he was touched by Serbia's reaction to the death of Brice Taton, who died after being brutally assaulted by football hooligans in Belgrade in mid-September.
He said that this tragic event would not have any repercussion for relations between Serbia and France.