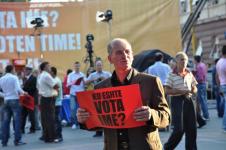 Albania's opposition Socialist Party staged a rally in Tirana on Saturday, calling for a recount of the ballots from the June 28 parliamentary elections.
The rally was attended by several thousand party supporters and was also backed by several minor opposition parties and various civil society groups.
Socialist leader Edi Rama attacked right-wing Prime Minister Sali Berisha, accusing him of heading a sophisticated conspiracy that shaped the results of the parliamentary elections.
"We want to see our votes, and release them from the pressures of the state," Rama told the crowd, while calling for the ballot boxes to be reopened.
According to the Socialist leader, the country would learn the truth about the elections if a recount was instituted. Rama has made a new tally of the votes a precondition for his party's 64 deputies ending their current boycott of parliament.
He lashed out at Berisha, saying it was only because of the prime minister that Albania does not enjoy free and fair elections. He warned that protests would escalate in other parts of the country, if opposition calls go unheard.
"The fate of this battle is not in the hands of those that forced us to be here today, but in our hearts, in our determination to fight for a free and fair poll," Rama told his party's supporters, bussed in from across the country for the rally.
An OSCE/ODIHR report on the parliamentary poll noted tangible progress with regard to the voter registration and identification processes, and in reform of the overall legal framework governing the election.
Although the electoral process was deemed an improvement on previous polls, it still did not meet internationally recognised election standards.
Despite the Socialists' boycott, not everyone in the party agrees that the elections were stolen.
A group of deputies, headed by former ministers Ben Blushi and Arben Malaj, have contested the boycott and questioned Rama's leadership, blaming him for what they say was a poorly run election campaign.
The EU and OSCE have also called on Rama to end the boycott.