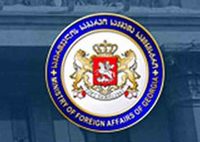 According to the initial information, the NATO appraisal mission is pleased with the steps taken by Georgia to implement the annual national program.
The mission held business productive meetings in Georgia, Georgian Deputy Foreign Minister David Jalaganiya said at the briefing on Oct.12.
The mission is expected to submit its report, as well as recommendations on the 2009 national plan to the alliance by late October Jalaganiya added.
"Simmons once again voiced the Alliance's position over Georgia's membership in the NATO," Jalganiya said when he was commenting on the NATO Secretary General's Special Representative on the Caucasus and Central Asia Robert Simmons's visit to Georgia.
Simmons reiterated the NATO's support to independence, sovereignty and territorial integrity of Georgia, and severely assessed the failure of Russia's obligations of the cease-fire agreement dated Aug. 12, 2008," Jalaganiya added.