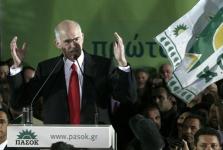 A meeting between new Greek Premier George Papandreou and Macedonia's Foreign Minister Antonio Milososki may signal a thaw in relations.
The two officials met briefly on Friday afternoon on the sidelines of an informal meeting of the Southeast European Cooperation Process in Istanbul.
"I [hope] we have better cooperation in the future," Macedonia's A1 TV quoted Papandreou as saying.
Expressing his country's readiness to cooperate, Milososki told A1: "we hope that the Greek side will take a positive and pragmatic approach in the period ahead". However, he warned against overly optimistic assessments.
Last year, Athens blocked Skopje's NATO entry, insisting that its neighbour first change its constitutional name, Republic of Macedonia. Athens insists that this name implies that Skopje is maintaining territorial claims to a northern Greek province.
Many in Macedonia fear that Greece may also block Macedonia's EU accession process. The European Commission is due to release a report on the country's reform progress this Wednesday. Many Macedonian media outlets question whether Greece will influence sections therein dealing with Macedonia's EU integration process; notably the establishment of a set date for the start of EU-Skopje accession negotiations.
Since its independence in the early 1990s, Macedonia has established NATO and EU integration as its foremost strategic priorities.
Some observers see Papandreou, who won Greece's parliamentary elections on 4 October, as being less hawkish than his predecessor Costas Karamanlis on the naming issue, and believe he may take a more pragmatic approach to resolving the long-standing row.
During a previous stint as Greek foreign minister, from 1999 to 2004, relations between the two countries were better than at any point in nearly two decades.
In a Friday interview with Macedonian daily Utrinski Vesnik, UN Secretary-General Ban Ki-moon said he hoped the two countries would quickly resolve the dispute. He announced the intensification of the UN-mediated name talks.
"I believe that after Greece's elections we will find a solution. That's what I hope for and plan to work on in the future", the UN head said.
Local media speculate that the most recent UN proposal in the talks reportedly focuses on variation on the name Northern Republic of Macedonia.