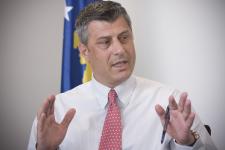 Kosovo's prime minister has welcomed a European Commission, EC, progress report, despite the fact it contains strong criticism of his country.
"For the first time in the history of Kosovo, the clear guideline for the European [path] of the Republic of Kosovo will be included in the Progress Report and Feasibility Study. This was achieved with the [instigation] of good and efficient governance and the rule of law in Kosovo," Premier Hashim Thaci said.
Thaci said he was pleased that the report established an EU path for Kosovo and referred to parallel Serbian institutions.
"I am glad that the report on the Kosovo government's progress shows this dissatisfaction, which we have presented to international officials, which confirms the destructive role of Belgrade," in Kosovo, said Thaci, referring to the Serbian institutions.
The report expressed concern about corruption in many fields, political influence over the courts and media, and a lack of transparency in procurement procedures.