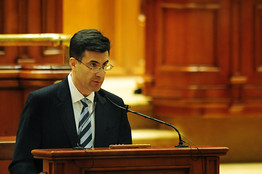 A bid by finance adviser Lucian Croitoru to lead the Romanian government failed Wednesday after three political parties voted against his team.
Mr. Croitoru, the national bank adviser, was nominated in October by President Traian Basescu to be the country's new prime minister. Lawmakers in Parliament voted 250-189 against Mr. Croitoru. He needed 236 seats to be approved.
The former government led by Emil Boc and supported by Mr. Basescu fell on Oct. 13 in a no-confidence vote. Parliament and Mr. Basescu have been embroiled in feuds for years.
Mr. Basescu will nominate a new prime minister, whom Parliament will again vote on. Mr. Croitoru acknowledged defeat.
"I chose the best government I could," he said. "My mission has ended." The three parties say they want Klaus Johannis, the mayor of the city of Sibiu, as prime minister.
Mircea Geoana, the opposition leader who heads the Social Democratic Party, called on Mr. Basescu to reconsider Mr. Johannis.
"We are asking for a minimum of democratic decency and we will nominate Johannis again," he said. "We will see what (Basescu's) point of view is in the last weeks of his presidency."
Romania holds presidential elections on Nov. 22. Mr. Basescu is running for a second five-year term. Mr. Geoana is also running.