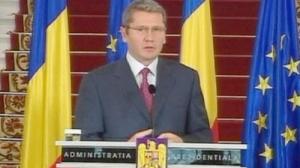 Liviu Nogoita is Romania's Prime Minister-designate but chances of actually getting the job appear slim.
He is hoping for a government with broad political support. But the opposition-dominated parliament looks set to reject him, intensifying the country's political deadlock.
A centrist ally of President Traian Basescu, Negoita is likely to fare no better than the President's first choice who was blocked on Wednesday.
The crisis started when the centrist coalition broke up in October. And, ahead of this month's presidential elections, the consequences of the wrangling are serious.
Romania has been hit hard by the global downturn and the IMF has suspended a review of its rescue package until a new, stable government is formed.