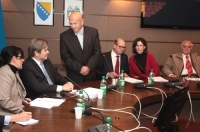 Postizanje kompromisa između domaćih političara jedini je način za napredak BiH ka Evropskoj uniji i NATO-u, kazali su juče Čarls Ingliš i Bose Hedberg, američki i švedski ambasador u našoj zemlji.
Ingliš je naglasio da Sjedinjene Američke Države i EU mogu i žele pomoći da BiH ispuni potrebne preduslove za napredak ka članstvu u EU i NATO, ali da je odgovornost za to na domaćim političkim liderima. Stoga je domaće političare pozvao da, umjesto "insistiranja na razlikama i načinu razmišljanja koji je primjeren 19. vijeku", postignu korektan kompromis.
"Političari u BiH moraju prigrliti kompromis, a vi morate učiniti sve što je potrebno da oni to i učine. Morate osigurati da vaša djeca i unuci imaju budućnost u evropskoj BiH", rekao je Ingliš, koji je sa švedskim kolegom o vrijednosti pregovora započetih u Butmiru govorio na sesiji Asocijacije nezavisnih intelektualaca "Krug 99", održanoj u Sarajevu.
Ocijenio je da je "blesav način razmišljanja da je butmirski paket za jedne premalo, a za druge previše da bi se prihvatio".
"Butmirski paket je kompromis, a kompromisi su nesavršeni, ali ako bude prihvaćen, to će biti gigantski korak za BiH na putu ka EU i NATO-u", poručio je Ingliš.
Bose Hedberg, ambasador Švedske u BiH, naglasio je da OHR ne može odvesti BiH u EU i NATO iako je međunarodna zajednica odigrala veoma važnu ulogu u proteklih 15 godina u BiH.
"Ustavne promjene, koje su dio butmirskog procesa, treba da osiguraju kapacitete da BiH bude sposobna da provodi odluke u procesu evropskih integracija. To je važno na putu BiH ka EU jer BiH mora provesti reforme kako bi njena aplikacija za članstvo u EU bila kredibilna", rekao je Hedberg.
Naglasio je da je problem u BiH pritisak na institucije koje bi morale biti nezavisne, kao što su Sud BiH i Regulatorna agencija za komunikacije. Uz to, smatra da je problem i što se političari koji su spremni za razgovor i kompromis proglašavaju izdajnicima.
"Možete učiti na primjeru evropskih zemalja koje su odlučile da zajedno rade kako bi osigurale dugoročni napredak. Građani BiH žele političku, ekonomsku i socijalnu sigurnost, a kada BiH jednom postane članica EU imat će zaštitu zajedničkih evropskih institucija", napomenuo je Hedberg.
Poručio je da će građani platiti cijenu ako političari ne budu spremni da prihvate minimum postavljenih uslova, jer to će onemogućiti kretanje BiH ka EU.