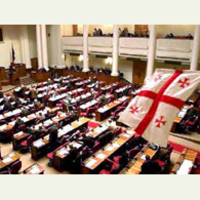 The Georgian parliament will begin discussions on nominees to the post of Georgian ambassador to Azerbaijan today. Georgian President Mikheil Saakashvili nominated earlier this week Presidential Administration Spokesman Ivan Noniashvili.
The parliamentary committees on foreign relations and relations with the Georgian diaspora will discuss the issue at a joint meeting.
In 2004-2005, Noniashvili headed the Organization Department of the Presidential Press Service. Today he runs the Press Service. Noniashvili is a state counselor.
Parliament will decide on candidacy as Georgian ambassador to Azerbaijan next week.