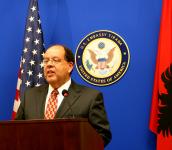 US Ambassador in Tirana John L Withers called on Prime Minister Sali Berisha and opposition leader Edi Rama to find common ground and resolve the politcal row that has engulfed the country since the 28 June parliamentary elections.
"Our position (on the parliamentary boycott) is that it would really be for the best if dialogue could occur among the leading political actors to reach some sort of compromise that would end this particular stalemate," said Withers in a statement.
"I think we all feel that not having the opposition in the parliament is not good for the country as a whole," he noted, adding that: "We would like to see that resolved, but we think that it is absolutely vital (to understand) that this is really is a question for the Albanian political leadership to resolve (and) we hope that they can resolve it among themselves and things can go back to the way that they should be."
The Socialist Party, headed by Tirana's mayor Rama, has boycotted parliamentary sessions ever since the new parliament was reconfigured in September, after the June poll.
Rama considers the electoral process as marred by fraud and has asked for a recount of the vote as precondition for his deputies to return to parliament. The request has been denied by the Democratic Party headed coalition of Prime Minister Sali Berisha, who has argued that the courts have already given their rulings on the election results, and the government cannot circumvent their authority.