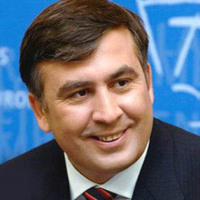 Georgian president expressed satisfaction with the format of enlarged council on national security of Georgia. Mikheil Saakashvili stated at the regular meeting of the enlarged council that these meetings involving the opposition are a dialogue between the government and the opposition.
"Of course, the dialogue does not mean we will reach an agreement on all issues, but we are looking for the solutions," the president said.
He stressed that political parties are reaching certain agreements, like on the election code.
"This is the demand of our people, who want us to reach an agreement on this particular issue", he said.
The president expressed satisfaction with the interference of opposition in the issue of freeing four teenagers captured by Russian forces.
Saakashvili thanked the opposition members who visited the families of the kidnapped and held necessary talks.
Meeting of CNS was closed following the president's statement.
"We have no secrets from you and we are convinced you will not take any confidential information out and this is very good, as we all think about our homeland", the Georgian president said.