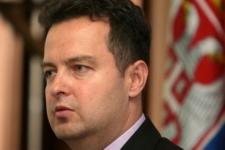 Serbian Interior Minister Ivica Dacic protested on Monday at a conference in Brussels because the Kosovo Albanian delegation did not have UNMIK signboards on its table.
Dacic considered the missing UNMIK signboards from the tables as an attempt to prejudge the status of Kosovo.
"We have confronted this, having in mind that Kosovo representatives can only take part in the forum either together with UNMIK or under a clear sign that they are under the Resolution 1244, which they did eventually," Dacic said.
The forum, which is part of the Ministerial Conference on Legislature and Internal Affairs of the EU and Western Balkans, was delayed because of the protest.
The conference included discussion of the stabilization and association process, visa liberalization, the fight against corruption, human trafficking and weapons trafficking, as well as an analysis of organized crime threats in Southeast Europe.
European Commission Vice President Jacques Barrot, who was also at the conference, said that the process of stabilization and association is a key element for the integration of Western Balkans countries.
He added that Serbia "has made significant progress in the fight against corruption," and supported the country's adoption of a national strategy for the fight against crime.