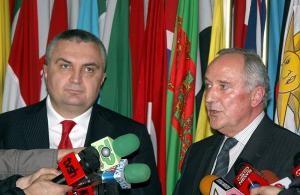 In democratic countries, the political debate rolls out in parliament, and therefore it is necessary that opposition parties in Albania end the boycott of parliament, senior EU official said.
Pierre Mirel, European Commission Director the Western Balkans, made the remarks in Tirana on Tuesday.
After meeting the country's foreign minister Ilir Meta, the EU official said it was necessary to find a solution to get the opposition back in parliament.
Mirel stressed that Albania needs to proceed with reform process because it is very important to the country's efforts to join the European Union, adding that the democracy requires debating in the institutions.
Mirel and Meta also discussed visa liberalization for citizens of Albania. The country may secure visa exemption by mid-2010 if it fulfills the necessary conditions.