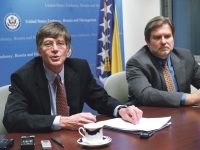 SAD i EU neće odustati od podrške domaćim liderima da ispune uslove za pomak BiH ka članstvu u EU i NATO-u, iako preksinoć u pregovorima o reformi Ustava BiH željeni napredak nije postignut.
Poručio je to jučer zamjenik američkog državnog sekretara Džejms Stajnberg po okončanju odvojenih sastanaka s liderima sedam političkih partija u BiH, održanih dan ranije u Sarajevu.
"Važno je da rukovodstvo pokaže da je zemlja sposobna da funkcionira na efikasan način i da udovoljava potrebama članstva u EU i NATO-u. Nismo postigli napredak koji smo željeli, ali ovo je proces u kom nema rokova. Izbori su dogodine, stoga bi domaći lideri trebali što prije osigurati napredak u nekoliko dobro poznatih uslova", kazao je Stajnberg.
Naglasio je da Sjedinjene Američke Države ostaju predane i posvećene BiH, što, između ostalog, pokazuje i činjenica da je treći put u dva mjeseca posjetio našu zemlju.
"SAD i EU su zabrinute stanjem u BiH, ali i opredijeljene da pomognu u postizanju dogovora o nužnim uslovima za napredak ka EU i NATO-u. Ne možemo mi usvojiti ove odluke. Jedva čekamo da BiH prođe kroz otvorena vrata za ulazak u EU i NATO. Dogovor političkih lidera je ključna riječ jer želimo vidjeti da je država spremna preuzeti puni suverenitet, dogovarati i provoditi reforme", naglasio je Stajnberg.
Primijetio je da previše lidera u BiH traži da, umjesto njih, rješenja nađe neko sa strane.
"Suština je da, ako želite postati članica evropskih i evroatlantskih institucija, sami donosite odluke i da ste spremni biti njihova članica", poručio je Stajnberg i pozvao bh. lidere da preuzmu odgovornost i traže kompromis.
EU i SAD prije gotovo dva mjeseca od vlasti u BiH zatražile su da Ustav BiH usklade s Evropskom konvencijom o ljudskim pravima, osnaže državne institucije, naprave efikasniji sistem odlučivanja i funkcioniranja države, te da dogovore model raspodjele državne imovine. Uslovi su to koje BiH mora ispuniti prije podnošenja aplikacije za članstvo u EU, te daljeg napretka ka NATO-u. Stajnberg je juče novinarima u Sarajevu rekao da je s liderima sedam bh. stranaka u srijedu "razmijenio ideje o ovim pitanjima".
"Postoje uslovi koji moraju biti ispunjeni, ali i različiti načini da se to uradi. Predstavnicima NATO-a dat ću ažuriran izvještaj o situaciji i oni će postaviti pitanje da li je liderstvo u BiH spremno poduzeti korake koje će im omogućiti dalji napredak u članstvu u NATO-u. Nisam spreman otići pred NATO i reći da su se stranke objedinile i da su spremne da donesu određene odluke koje SAD smatra važnim u vezi s tim procesom", zaključio je Stajnberg ponavljajući da članstvo svake zemlje u EU i NATO-u nije samo pravo, nego predstavlja i niz obaveza koje se moraju preuzeti i provesti.