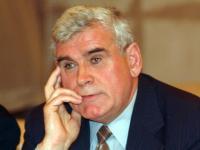 Azem Vllasi will be the first Kosovo ambassador to Montenengro, media report, once Podgorica establishes diplomatic relations with the country.
The Tanjug news agency said Vllasi could not specify when he will be officially nominated, adding that it is not diplomatic practice to speak about such details until he gets formally proposed and obtains the approval of the Montenegrin government.
Vllasi welcomed announcements by Montenegrin authorities that they plan to establish diplomatic relations with Kosovo.
"Since the Montenegro recognised the independence of Kosovo, Pristina wants to establish full diplomatic relation with Podgorica," Tanjug quoted Vllasi as saying.
In an interview with daily Blic on Monday, Serbia's Foreign Minister warned Montenegro his country will react with "approriate measures" if Pogorica establishes diplomatic relations with Kosovo. He expressed his hope that this will not happen during International Court, ICJ, hearings on whether Kosovo's declaration of independence went against international law.
The ICJ hearings will last until 11 December, while judges are expected to deliver their opinion in a few months time.
Serbia's Ambassador to Podgorica Zoran Lutovac has requested Montenegro to postpone the establishment of diplomatic relations with Kosovo until the ICJ comes to a conclusion.
Montenegrin media reported Tuesday that the country will establish full diplomatic relations with Kosovo after the ICJ hearings in The Hague.