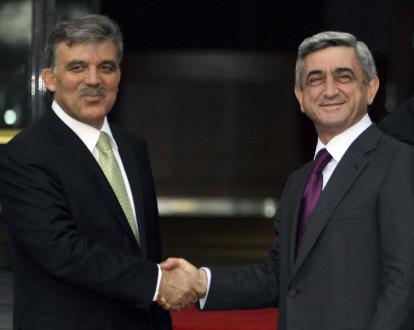 Armenia on Thursday threatened to walk away from a landmark deal to establish ties with Turkey if Ankara continues to link the agreement with the dispute over Azerbaijan's Nagorno-Karabakh region.
"Armenia is prepared to honor its international commitments and we expect the same from Turkey," President Serge Sarkisian said during a press conference with his Latvian counterpart, Valdis Zatlers.
"If Turkey drags out the ratification process, Armenia will immediately make use of possibilities stemming from international law. I have instructed relevant state bodies to prepare amendments to our laws pertaining to the signing, ratification and abrogation of international agreements," Sarkisian said.
Turkey and Armenia signed two protocols in October on establishing diplomatic ties and re-opening their shared border in a deal hailed as a historic step toward ending decades of hostility stemming from World War I-era killings of Armenians by Ottoman Turks.
Neither country's parliament has yet ratified the agreements amid nationalist opposition and objections from Turkish ally Azerbaijan.
Turkish officials have repeatedly said the agreements will not be ratified without progress in Armenia's dispute with Azerbaijan over Nagorno-Karabakh.
Sarkisian warned against attempts to link the two issues, saying any linkage is "doomed to failure."
Backed by Yerevan, ethnic Armenian separatists seized control of Karabakh and seven surrounding districts from Azerbaijan during a war in the early 1990s that claimed an estimated 30,000 lives.
Turkey closed its border with Armenia in 1993 in a show of solidarity with Azerbaijan – with which it has strong ethnic, trade and energy links – against Yerevan's support for the enclave's separatists.