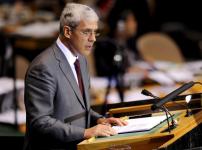 Serbian President Boris Tadic said Croatia's defence of Kosovo's independence in front of the International Court of Justice, ICJ, are harming relations between the two neighbours.
Speaking at a press conference on Thursday at the Palic lake, Tadic said that Croatia's arguments at the court amount to interference in Belgrade's internal affairs.
Quoting Croatia's argument at the ICJ that according to the 1974 Yugoslav constitution, provinces as well as republics also had the right to self-determination, Tadic said: "I hope it is not the intention of Croatia that our relations descend to a lower level of bilateral ties".
He said good neighborly relations are a pre-requisite for EU integration.
His comments are the latest in a verbal tit-for-tat, after Croatia's President Stjepan Mesic two weeks ago accused Bosnia's Republika Srpska entity Prime Minister Milorad Dodik of 'working to destabilise Bosnia-Herzegovina' and "continuing the policy of Slobodan Milosevic, but… in a different way".
Tadic reacted to the statement by saying Mesic's comments "do not bring good to anyone in the region."
In January, the presidents of Croatia, Albania, Kosovo, Macedonia and Montenegro – Stipe Mesic, Bamir Topi, Fatmir Sejdiu, Georgi Ivanov and Filip Vujanovic, are due to meet in the Kosovo town of Prizren, Pristina daily Koha Ditore reported.
The meetings will coincide with Orthodox Christmas. Mesic has, according to the paper, said that this fact should not upset Serbia, since the date was set without aiming to offend anyone.