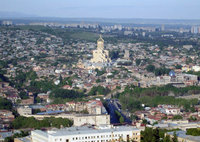 The Georgian Defence Ministry has presented the National Security Concept and report about ongoing reforms in the defence field. During the three-day conference the Defence Ministry introduced its future action plans to state agencies representatives and NGO sector, local opposition parties, and representatives of diplomatic corps accredited to Georgia.
NATO-Georgia relations and Georgia's participation in the Afghan peacekeeping mission were actively debated issues. The conference was held in Gudauri.
"We discussed the reform processes in the defence field. We held talks regarding important issues like Georgia's participation in the operations in Afghanistan. The forum was of great interest of participants and foreign attendants. We argued about readiness of the Defence Ministry about decreased budget's utilization for operational purpose and proceed with ongoing reforms," Defence Minster Nikoloz Vashakidze said.
According to the German Federation Republic Military Attaché to Georgia, LTC Christian Farkonden, the German Embassy appreciates holding such forums by the Georgian Defence Ministry. "The first was in spring in Batumi and now here in Gudauri to get informed about defense reforms, integration into NATO, and the mission in Afghanistan. This is a very transparent conference which means that not only ambassadors, defence attaches and representatives of NATO but also NGOs and members of parliament participated in the event. For me as a defence attaché it is very important to have details about trainings and preparation of the Georgian servicemen," the German Military Attaché said
According to Georgia Christian Democratic Movement member Nika Laliashvili, today's event was very significant, because it is obvious that the ministry introduces political will for transparency.
"The Defence Ministry, NGOs, international representations, and diplomatic sector participated in the discussions today. I estimate this meeting as a positive phenomenon. Regarding efficiency, I believe that if all issues drafted on the paper will move into action and we will armed forces meeting the NATO standards," Laliashvili said
The conference will end tomorrow